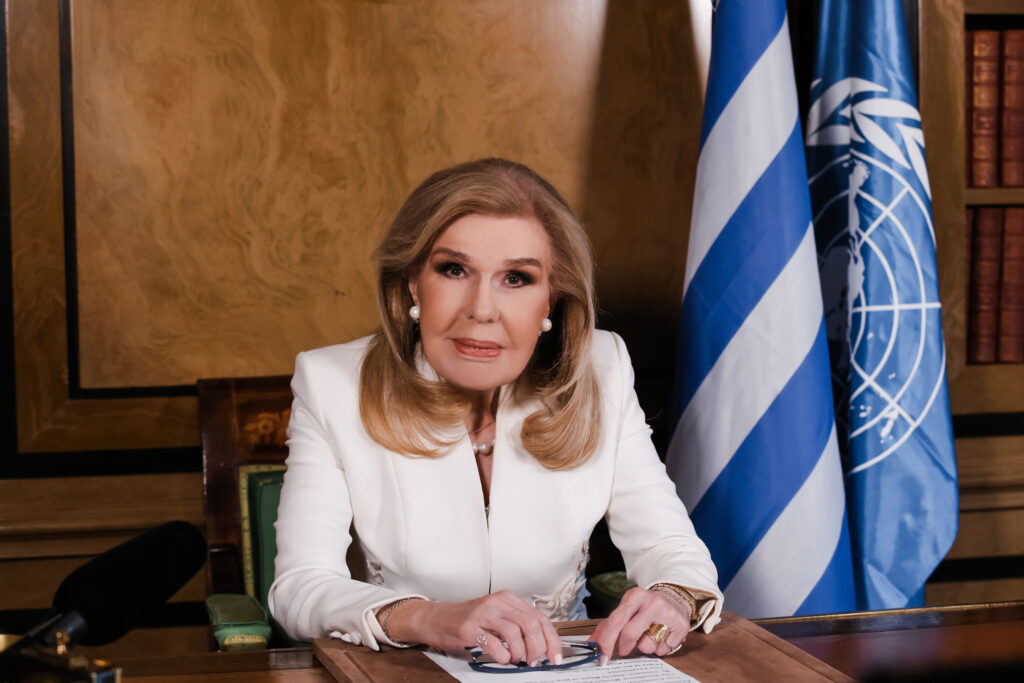 Marianna V. Vardinoyannis
United Nations "Nelson Mandela Prize 2020" Laureate
Marianna V. Vardinoyannis is a Greek philanthropist and a world advocate and campaigner for human rights and children's health.
She is Goodwill Ambassador of UNESCO, Founder/President of "ELPIDA Friends' Association of Children with cancer" (est. 1990), "Marianna V. Vardinoyannis Foundation" (est. 1997) and "Orama Elpidas Association" (est. 2014) as well as board member of many organizations. Her work is recognized internationally and has a wide impact as she is helping children not only from Greece but also from the Balkans, the Mediterranean region, Africa and beyond. She is building bridges of solidarity among countries, among communities and among hospitals from different parts of the world.
In 2020, she received the 2020 Nelson Rolihlahla Mandela Prize of the United Nations for her humanitarian work in the footsteps of Nelson Mandela. 
She is the only Greek woman who has received the Grand Cross of the Order of Beneficence of the Hellenic Republic (2020).
For more than 30 years, she fights against childhood cancer saving and helping thousands of children to be cured from cancer. She struggles for respect on children's fundamental right to health and for equality to access the best medical treatments. Among her achievements, it is the creation of the first Pediatric Oncology Hospital in Greece, in 2010.
Her vision is a world without borders in children's health, a world, not only of social, but also, of scientific solidarity. In 2013, she established the "Affiliations Program" of ELPIDA Association, for the exchange of expertise and therapies among prominent oncology hospitals for children around the world such as Johns Hopkins (USA), Philadelphia Hospital, Sick Kids (Canada), (USA), Princess Maxima Pediatric Oncology Center (The Netherlands). In 2020, she established the first "Cell and Gene Therapy Center" for children in Greece for specialized research and treatments on difficult cancer cases. As a response to the vulnerability of the cancer patients to the challenges of the Covid-19 pandemic, she also initiated the "Health Diplomacy Program by ELPIDA" in 2020. This initiative introduces the role of health diplomacy in the combat of global health challenges and the importance of recognition our all countries' common responsibility to find common ground and solutions, to cope with the dangers that are common to all humanity. During 2020, she supported and joined international calls for free access to Covid-19 vaccine and other social issues of the pandemic.
Moreover, inspired by motherhood, she has built up an extensive record of humanitarian work in support of disadvantaged social groups, as well as on issues related to peace, education, human rights, dialogue among civilizations, respect on diversity and protection of world cultural heritage. She struggles against threats to childhood including vulnerability to poverty, diseases, violence, discrimination, climate change and war, supporting or initializing programs funded by her foundation. For these reasons, UNESCO entrusted her with the Goodwill Ambassador mission for more than 20 years.
She supports many educational institutions in the USA, in Europe and in Greece as well as UNESCO programs for education and culture and she promotes the United Nations Sustainable Goals. She supports children and families, schools, people affected by natural disasters, as well as refugees.
PERSONAL DATA
Born in Athens, Greece.
Married to Admiral Vardis J. Vardinoyannis, President of Motor Oil.
Mother of five children.
POSITIONS
Goodwill Ambassador of UNESCO
(http://www.unesco.org/new/en/unesco/about-us/who-we-are/goodwill-ambassadors/marianna-vardinoyannis/)
Founder and President of the "Marianna V. Vardinoyannis Foundation" (www.mvvfoundation.gr)
Founder and President of the Friends' Association for Children with Cancer  "ELPIDA" (www.elpida.org)
Founder and President of "Orama Elpidas" Association (www.oramaelpidas.gr)
SELECTED MEMBERSHIPS
Member of the Board of Directors of the Acropolis Museum, Greece
(https://www.theacropolismuseum.gr/en/organisation-management )
Member of the Board of Trustees of the Bibliotheca Alexandrina, Egypt
Member of the Board of Trustees of MENTOR International Foundation against drugs, Sweden
(http://www.mentorfoundation.org/people.php?nav=3-26-88&id=31&pg=2)
Member of the Board of Trustees of "Nizami Ganjavi International Center", Azerbaijan
Member of the Leadership Council of the "Robert F. Kennedy Human Rights", USA
(http://rfkcenter.org/leadership-council-4?lang=en)
Member of the  Leadership Council of Concordia, USA
https://www.concordia.net/community/marianna-vardinoyannis/
Member of the Executive Committee of the Board of Directors of The Hellenic Initiative (https://www.thehellenicinitiative.org/leadership/)
Member of the Kenjin-Tatsujin-the International Advisory Council for the "Ashinaga" Africa Initiative, Japan
(https://en.ashinaga.org/kenjintatsujinmember/marianna-v-vardinoyannis/)
Member of the International Committee of the "Foundation for a Culture for Peace", Spain
(http://www.fund-culturadepaz.org/comite_eng.html)
Member of the Board of Directors of "The Light of Africa Foundation", Egypt
HONORARY POSITIONS/MEMBERSHIPS
Founder and Honorary President of the Alexandria Center for Hellenistic Studies of the Bibliotheca Alexandrina, Egypt
(http://www.bibalex.org/HellenisticStudies/News/Details.aspx?ID=1)
President of the Honorary  Committee of the Anniversary Year "Thermopylae-Salamis 2020" commemorating the 2500 years from the Battle of Thermopylae and the Naval Battle of Salamis, Greece
(https://www.thermopylaesalamis2020.gr/en/)
President of the Honorary Committee of the Special Olympics Hellas
Member of the Honorary Committee of the Prix Galien, France
(http://www.prixgalien.com/en/)
EDUCATION
ΜPhil in Archaeology (University of Sheffield-UK)
BA in History of Art (Deree –The American College of Greece)
BA in Economics (University of Denver-USA)
HONORARY ACADEMIC DISTINCTIONS
Honorary Doctorate in Medicine (University of Athens, 2019)
Hοnorary Doctorate (University of Georgia, 2011)
Honorary Doctorate in Humanities (DEREE- The American College of Greece, 2010)
Honorary Degree in Philosophy (London Metropolitan University, 2008)
Honorary Doctorate in Laws (University of Sheffield, 1997)
AWARDS AND DISTINCTIONS
International
Nelson Rolihlahla Mandela Prize of the United Nations (2020)
Medal of Exceptional Offer of the Republic of Cyprus (2018)
"Dostlug Order" Medal of Azerbaijan (2018)
International Award of Nizami Ganjavi International Center (2018)
"Malala" Prize of the European Students' Council (Strasburg-Athens, 2018)
Medal of Honor and Distinction of Palestine (2017)
"Ripple of Hope Award" of "Robert F. Kennedy Human Rights" Foundation (2015)
Officer of the "Legion d' Honneur" of the French Republic (2015)
"Mother Teresa Medal" of the Albanian Republic (2015)
Medal of Excellence at the Tbilisi State University of Georgia (2015)
Grand Prix de la Charte de Paris contre le cancer-AVEC (2014)
Nizami Ganjavi International Award (2013)
Honorary Distinction of the Special Olympics International (2008)
Medal of the International "Association of the Friends of Bibliotheca Alexandrina" (2007)
Chevalier of the "Legion d' Honneur" of the French Republic (2006)
Paul Harris Fellow Award of Rotary International (1995)
Red Cross Award (1995)
International Humanitarian Award (USA, 1987)
National
Grand Cross of the Order of Beneficence of the Hellenic Republic (2020)
Athens Academy Award (2017)
Hellenic American Leadership Award of "The Hellenic Initiative" (2017)
"Gold Cross with Gold Laurel Branch" medal of the "Hellenic Red Cross" (2017)
National & Kapodistrian University of Athens Award (2016)
Award of the Biomedical Research Foundation of the Academy of Athens (2016)
Athens Medical Association Award (2016)
Honorary Member of the Hellenic Coast Guard Club (2016)
Maria West Lifetime Achievement Award -American College of Greece ACG (2014)
Excellence and Solidarity Award –Greek National Olympic Academy (2014)
Award of the Hellenic Sports Federation for persons with disabilities (2014)
Pro Bono Humanum – Prix Galien Greece (2013)
Award of the Society of Culture, Science and Social Intervention (2012)
Award of IRITEL (International Research Institute for Telemedicine and Home Care (2012)
Award of the "Athanasios Botsis Foundation" (2012)
"Excellence in Philanthropy" Award of the Global Thinkers Forum (2012)
Award of the Pancretan Association of Athens (2011)
Award of the American Hellenic Institute (2011)
Medal of the Hellenic Olympic Academy (2011)
"Excellence Award for Social Contribution" of the European Council for Youth Mobility in Research and Technology (2011)
Excellence in Solidarity Award of the European Institute of Law, Science and Technology (2011)
Honorary Distinction of the "Panathinaiki" Panhellenic Womens Organisation (2010)
Honorary Distinction of "Pisti" Association of Parents and Guardians of Children with Neoplastic Diseases (2009)
Honorary Distinction of the Hellenic Society of Haematology (2009)
Office of the Great Lady of the Patriarchal Throne of St. Mark (Patriarchate of Alexandria, 2008)
UNICEF Award (2008)
Award of the Ecumenical Hellenism Organisation (2008)
Award of the "Hatzikyriakio Foundation for Child Protection" (2005)
"Golden Cross of the Order of Benefaction" of the Hellenic Republic (2002)
Honorary Distinction by "Demokritos" Research Centre (2002)
Honorary Citizen of the Municipality of Ano Liossia (2001)
Honorary Member of the Club UNESCO of Attica (2000)
Special Award by the Association of Greek Olympic Champions (1998)
Athens Academy Award (1997)
Honorary Distinction by the Municipality of Thessaloniki (1997)
Award of the Rotary Club of Western Attica(1997)
"Woman of Europe" with the mission of promoting the international summit meetings for the protection of human rights and especially the children's (1996)
"Gold Medal of Honour and Benefaction" of the Municipality of Athens. (1996)
Award of the LIONS Club of Greece (1996)
Award of the Soroptimistic Union of Greece (1996)
LANGUAGES
Greek, English, French